These thankful letters come from me
Spring Break
style...I get a five day weekend for SB this year which is not as much as I wish I had, but it will do! Get ready for three linky parties in one post!
Dear Meteorologists,
Thank you for not knowing what you were talking about last weekend. You said we would get anywhere between 4-7 inches of snow and boy it was the biggest storm of the year. Ummm yeah, right! We didn't even get one inch. But I am thankful for your lack of preciseness in your field because had we missed Monday at school, we would have been making up snow days instead of Spring Breakin' it!
Dear Henry,
I am sorry that I have to take you to the vet today. You are up for a crazy amount of shots today and you will not be a happy camper. I believe there are 5 so I just hope we get out of the office without making any more enemies than we already have there. And I will apologize in advance if we get the mean lady, Mommy will stand up for you, I got your back buddy!
Dear Ipsy,
Sorry I'm not sorry. I quit you yesterday. I guess I wasn't willing to put in the time like I did with Birchbox to see if it was worth the monthly fee. I was not wowed or knocked off my beauty loving feet, so I am moving on. I think I will be trying out the Pop Sugar Must Have box now. I know it is more expensive, but looks AHmazing.
Dear Family,
I am excited to see everyone tomorrow. I am ready for a good time, laughter, and hopefully some nice weather! :) Christmas was too long ago!
Dear Ikea,
Thank you for existing. Although I wish you would ship for less than $300 dollars. I think I only need one more piece to complete my beauty glam room. I am loving my Malm 6-drawer dresser and the prettiness it brings my room!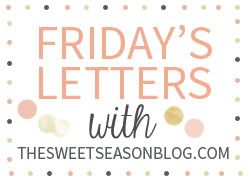 Ok I am off to now link up with
Lauren
for my H54F edition!
1. Snuggle time with Henry yesterday for Day 1 of SB.
2. I seriously have not stopped spending QT with JT since last Tuesday. I am obsessed. In a good way of course.
3. Essie's "madison ave-hue" is now on my nails. I love the pinky pink with the subtle shimmer.
4. My new dresser from Ikea. So pretty.
5. If you missed yesterday's post, guess what is hidden in those boxes? Check
here
to see.
Lastly and quite frankly the most fun. It is time to #backthatazzup with some jams for Friday. Linking up with Whitney for this special Friday dance party.
This week's pick comes from Beyonce and Jay Z with a little Bonnie and Clyde. I remember having this song on a mix that I burned in 2003 during my student teaching and I would blare it on the way the school. Enjoy!
Well that was certainly a fun post. Have a great weekend. Happy Easter all!