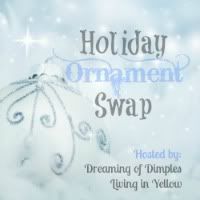 In September I stumbled across the
Ornament Swap
above. For a few months, I had read other bloggers describing swaps they participated in and how wonderful it felt to get mail, actual mail! So when I saw that this swap was to send a Christmas ornament to a new blogger friend...I instantly signed up as I am loving meeting new friends and Christmas decor is my favorite!
The list was finally posted and I discovered that I was swapping with the cutest girls from
Domestic Divas in Training
! I instantly got wrapped up in "stalking" their blog to find out a fun way that I could incorporate them into the ornament I bought.
You were supposed to contact your swapping mate by November 5th to swap addresses and any important information. I began to get a little worried because it was November 10th and I had not heard from the blogger that was supposed to send an ornament to me.
(Now remember, I realize an ornament is not the end of the world, but it is the fact that you sign up for a swap, and I personally think you should follow through).
By the 12th, which is the date you were supposed to have mailed your package by, I still had not heard a thing and I e-mailed the hosts. December 1st came, the day of the link up, and I have never heard from the blogger. My mom always says "Bummer Batman" when something disappoints you and there isn't much you can do to change it. BUMMER. BATMAN.
Enter the lovely Mary and Angela...I had said that I loved getting to know them. We are already Instagram followers, Twitter followers, GFC friends, etc. They are wonderful. When I shared with them that I was getting left out of the swapping part of the swap. They volunteered to send me an ornament, which just arrived! Enter wide eyed excitement. :)
Late last night I received an e-mail from Jessah (one of the hosts) and I have been repaired up with another blogger who didn't get to send out an ornament to someone. So it looks like I will be receiving one soon. I will update when it arrives. I guess good things come to those who wait! Stay tuned!